USB 2.0 PT Web Conferencing Camera
Looking for an easy and affordable way to add video conferencing to your next small conference room install? The Nearus™ USB 2.0 PT Web Conferencing Camera was made for custom conferencing solutions! Designed for use with your favorite web conferencing software (like Skype, Webex, or Lync) this USB camera provides clean images without all the hassle of typical conferencing equipment. Equipped with all the features custom integrators want and need - like serial control and a custom mounting shelf - this camera makes video conference room installs quick and easy.
Important Notice - This product only comes with a 3-inch USB 2.0 cable. It requires a USB 2.0 extension cable for installation.
Important Notice - This camera uses pan and tilt only and does not have a zoom feature. It is intended for smaller rooms that can be captured with a wide field of view and don't require zoom.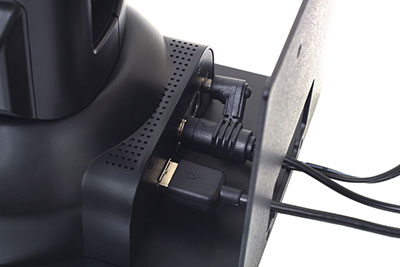 USB 2.0 Video Output
Computers and web conferencing are this camera's strong suit. Its USB 2.0 connection outputs sharp video and allows it to be used as a webcam for any conferencing software platform - like Skype, Webex, Lync, or any other platform you prefer. Simply use our USB product line to easily connect your camera to any PC - either room dedicated or BYOD.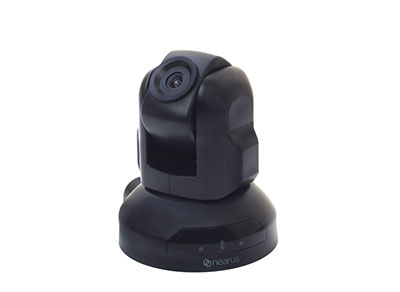 Remote Pan and Tilt with Presets
With the ability to remotely pan and tilt, this camera can easily be adjusted to the correct focal position - like a podium or a CEO's face - and stay there. And when you need to remember focal positions, there are up to 64 presets that can be easily stored and recalled. Easily program positions for a whole room, left side, right side, and head-of-table shot; this camera's savvy settings are sure to impress!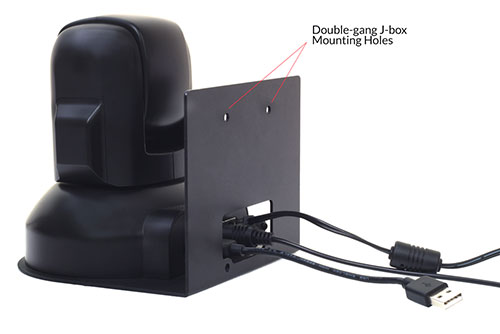 Have Shelf, Will Mount
Need a mounting shelf? Unlike the other guys, we went ahead and included one in the box! This sturdy custom shelf was designed specifically for the Nearus™ USB 2.0 PT Web Conferencing Camera for a clean, sleek look. Plus, it's designed to mount directly to a double gang junction box for easy construction planning or retrofitting. It also includes a tripod and ceiling mount adapter, so you're cover there too!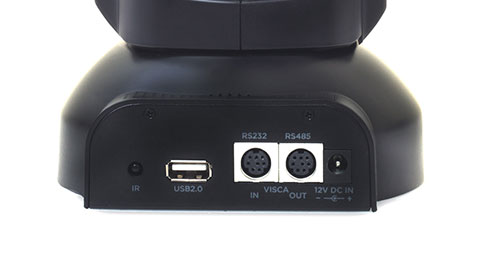 Under Control
With easy connections for RS-232 and IR control, this camera was made for custom integration. A front IR port provides hand-held remote functionality while the rear port allows for custom integration. An additional rear serial port includes two different types of adapters for easily connecting field wires.
Wide Angle Lens
Perfect for smaller conferencing rooms where subjects are seated close by, this pint-sized camera features a 70-degree horizontal field of view to easily capture the room. Perfect for those 4-6 person huddle rooms or as a web camera for office-to-office chats.
NU-100-USB2PT-B

Serial Control Pins

RS-232 8-pin Mini-DIN

Supported Control Protocols

VISCA, PELCO-D

Dimensions (W x H x D)

4.88" x 5.71" x 4.72"

Features

IR Control: front and rear sensors

Patrol Tours: 4
Presets: 64
Image Flip
360° Rotation
Tilt: +90°; -45°

Included Accessories

Remote

Operating Temperature

32-122° F

Outputs

USB 2.0

Weight

1.4 lb

Backlight Compensation

Yes

Est. Horizontal Viewing Angle

72.5°

Image Sensor

1/2.7" HD color CMOS 1.3MP

Lens

4mm

Video Resolution

1080P@30, 720P@30

External Power Supply

12 VDC; 2000mA