Wirepath™ 14-Gauge 2-Conductor Plenum Speaker Wire
Plenum-rated, this stranded bare copper speaker wire is perfect for speaker and audio applications in commercial spaces. It's CMP and FT6 rated for fire safety, plus, the nested box is even tougher, featuring reinforced handles, water-resistant coating, and a wide-mouth payout tube for tangle-free pulls.
Features
14-2 Plenum speaker wire
41 Strand, Bare Copper
UL Listed, CMP & FT6 Rated for fire safety
Electrical Characteristics
Max. Conductor DC Resistance: 8.6 (Ω/KM)
Voltage: 300 Volts RMS
Temperature: -20°C to 75°C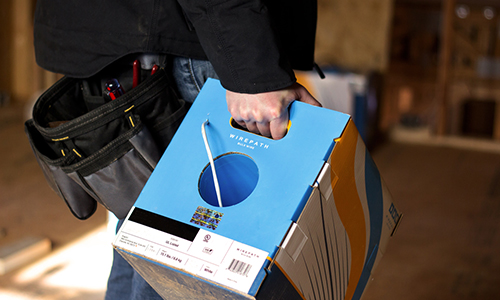 It's All in the Box
From stronger, more durable handles, to a tangle window you'll never need, to a payout tube that lets you access your wire without breaking a pinky, this box is as awesome as ever. As an added bonus, it's water resistant, tape-free and practically indestructible. A box this good is bound to put a smile on your face.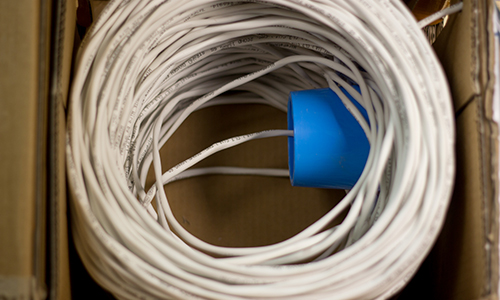 Hasta La Vista, Tangles
Tangles suck. That's why our wire is coiled with patented REELEX® technology to totally eliminate them. Each coil is tangle-free and kink-free so you're left with a smooth, easy pull that won't give you a headache. Go ahead - try it yourself.
Free Shipping
Wire is heavy and can be pretty darn expensive to ship. That's why we've decided to handle those pesky shipping fees for you. All Partner Rewards Members receive free shipping on every order. Plus, orders placed before 7pm are shipped out the same day. So go ahead and order a whole mess of wire – the shipping's on us.
| | | |
| --- | --- | --- |
| | NST-142-PL-500-BL | NST-142-PL-500-WH |
| Certifications | UL Listed, FT6 Rated, CMP Rated, RoHS Compliant | UL Listed, FT6 Rated, CMP Rated, RoHS Compliant |
| Dimensions (W x H x D) | 13.9" x 13.4" x 9.5" | 13.9" x 13.4" x 9.5" |
| Weight | 20 lb | 20 lb |