SunBriteTV® Pro Series Direct Sun Outdoor TV - 49"
Exceptional outdoor viewing quality just got a little bigger. The 49" Pro Series Direct Sun Outdoor LED HDTV is a durable, water-resistant TV that's guaranteed to operate safely and effectively in rain, snow, extreme heat, high winds, and many other types of inclement weather. Direct sun readable technology protects the screen from isotropic blackout, while a tempered glass shield keeps the LED screen protected in active environments. Powder-coated aluminum exterior shields all internal components while the ultra-bright, 49" full 1080p HD / LED anti-glare screen delivers unmatched outdoor viewing quality. With a built-in heating and cooling system, the display can even operate at extreme temperatures from -40 F up to 122 degrees F. Made for permanent outdoor installation.
TV Return Policy - To qualify for our standard TV return policy, inspect your SunBriteTV upon delivery, prior to signing the FedEx delivery record. Units damaged in transit must be returned within 48 hours of original delivery, and any damage must be noted on your FedEx receipt. You must also take pictures of any damage before returning the unit. Delivery signature is required for this item.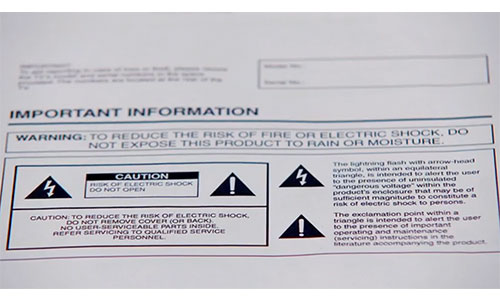 Safety First
Indoor TV manufacturers specifically prohibit outdoor use (just check the manual). Installing a display that is independently certified safe for outdoor use helps protect homeowners from harm and installers from liability.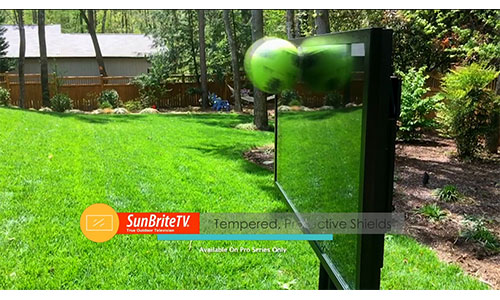 For Full Sun / Active Areas
SunBriteTV® Pro Series TVs are designed for full sun or active areas. Enjoy the big game even on the sunniest of days. This device is direct sunlight readable, featuring high-temperature Enhanced Solar Tolerance (EST) technology to help guard against isotropic blackout—those annoying dark spots that could appear over the screen when it faces the sun. A tempered glass shield protects the LED screen in active environments.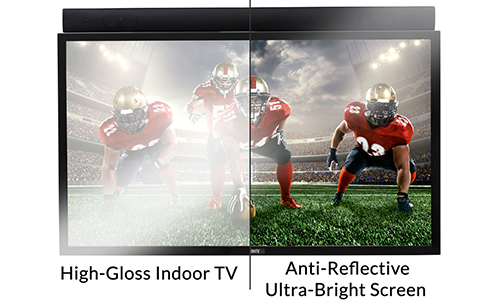 Engineered for Outdoor Viewing
Indoor TVs are designed for lower indoor brightness levels and often feature a high-gloss finish, which can make for a poor outdoor viewing experience. SunBriteTV® Pro Series TVs have high temperature tolerant, ultra-bright, professional-grade anti-reflective screens to deliver clear images in brighter outdoor lighting conditions.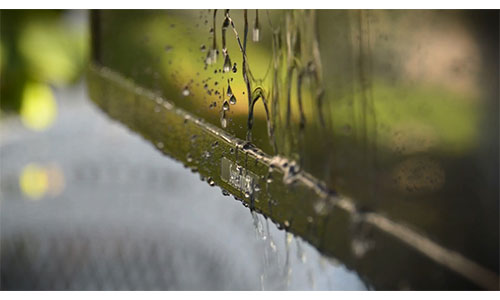 Resilient Exterior Guards Against the Elements
Made for permanent outdoor installation, the elements have nothing on the durability of this TV. Outdoor safe, water resistant, and resilient—a powder coated aluminum exterior protects against rust while shielding the internal components from rain, snow, dust, insects, humidity, and salt air.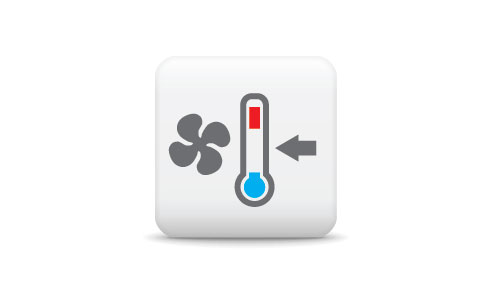 Extreme Temperature Functionality
A built-in heating and cooling system allows SunBriteTV® Pro Series TVs to operate efficiently in extremely low and high temperature environments (-40 degrees F up to 122 degrees F).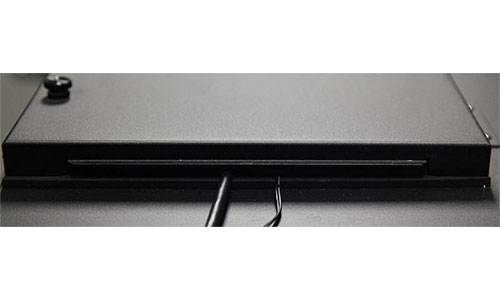 Innovative Weatherproof Media Bay
Cable hookups are easy with SunBriteTV's weatherproof cable entry system. Thick gaskets form a compression seal around cables, and the media compartment can accommodate many types of media players and baluns. Refer to this chart to determine which devices fit in the compartment.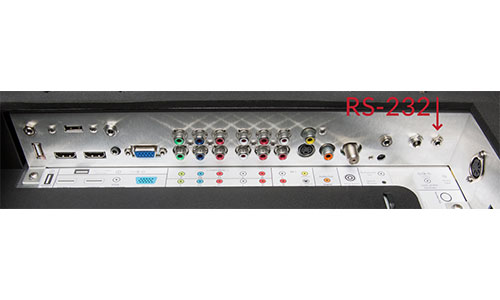 User-Friendly Control
Equipped with RS232 Serial Control with discreet On/Off and Input. A rear IR receiver located in the cable compartment keeps IR emitter hidden and protected. The weatherproof remote puts the power in your hands, while a remote lockout feature prevents unauthorized users from changing programming.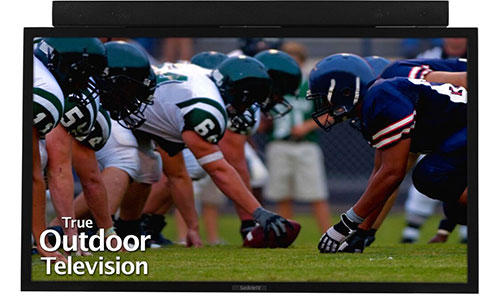 Better Sound
A weatherproof, detachable 20-watt soundbar is included (top or bottom mountable).
Multiple Installation Options, Simplified
Don't forget the weatherproof mount. Outdoor-rated mounting options include both tilt and articulating styles, deck poles, ceiling mounts and tabletop stands.
Package Contents
(1) SB-4917HD
(1) Weatherproof Detachable 20W Speaker Bar
(1) Weatherproof Remote Control
(1) Owner's Manual
SB-4917HD-BL
SB-4917HD-SL
SB-4917HD-WH
Audio Output Connectors
SPDIF Coaxial Digital x1, Analog 1/8" Headphone Jack (variable)
SPDIF Coaxial Digital x1, Analog 1/8" Headphone Jack (variable)
SPDIF Coaxial Digital x1, Analog 1/8" Headphone Jack (variable)
VESA Mounting Pattern
400mm x 400mm
400mm x 400mm
400mm x 400mm
Color
Black
Silver
White
Dimensions (W x H x D)
44.61" x 26.11" x 5.61"
44.61" x 26.11" x 5.61"
44.61" x 26.11" x 5.61"
Finish
Powder Coated Aluminum
Powder Coated Aluminum
Powder Coated Aluminum
Included Accessories
Weather-proof Remote Control,
Weather-proof Remote Control,
Weather-proof Remote Control,
top or bottom mount speaker bar
top or bottom mount speaker bar
top or bottom mount speaker bar
Inputs
RF: Antenna/CATV (ATSC/QAM/NTSC) x1
RF: Antenna/CATV (ATSC/QAM/NTSC) x1
RF: Antenna/CATV (ATSC/QAM/NTSC) x1
HDMI: HDMI™ Input x2
HDMI: HDMI™ Input x2
HDMI: HDMI™ Input x2
Video Composite: S-Video x1 and Composite Video x1, L/R Audio Inputs x1
Video Composite: S-Video x1 and Composite Video x1, L/R Audio Inputs x1
Video Composite: S-Video x1 and Composite Video x1, L/R Audio Inputs x1
Video Component: YPbPR plus Stereo Audio x2
Video Component: YPbPR plus Stereo Audio x2
Video Component: YPbPR plus Stereo Audio x2
PC: 15-pin D-sub VGA plus Stereo Audio
PC: 15-pin D-sub VGA plus Stereo Audio
PC: 15-pin D-sub VGA plus Stereo Audio
Operating Temperature
-24-122°F
-24-122°F
-24-122°F
Screen Resolution
1920x1080p full HD 1080p
1920x1080p full HD 1080p
1920x1080p full HD 1080p
Weight
64 lb
64 lb
64 lb
Aspect Ratio
16:09
16:09
16:09
Power Input
100-240 VAC, 50-60 Hz 2.0 A @ 120v Max
100-240 VAC, 50-60 Hz 2.0 A @ 120v Max
100-240 VAC, 50-60 Hz 2.0 A @ 120v Max
Screen Description
49" diagonal Color Active Matrix LED, with Anti-Reflective Protective Glass
49" diagonal Color Active Matrix LED, with Anti-Reflective Protective Glass
49" diagonal Color Active Matrix LED, with Anti-Reflective Protective Glass
Contrast Ratio
1300:01:00
1300:01:00
1300:01:00
Frame Rate
120Hz
120Hz
120Hz
Viewing Angle
178°x178°
178°x178°
178°x178°
Response Time
8 milliseconds
8 milliseconds
8 milliseconds
TV Formats
1080p, 1080i, 720p, 480p, 480i
1080p, 1080i, 720p, 480p, 480i
1080p, 1080i, 720p, 480p, 480i
Control Set
RS232 Serial, Discrete IR Control, Concealed IR Window
RS232 Serial, Discrete IR Control, Concealed IR Window
RS232 Serial, Discrete IR Control, Concealed IR Window
Included Speaker
20W Weatherproof Detachable Speaker Module
20W Weatherproof Detachable Speaker Module
20W Weatherproof Detachable Speaker Module
Non-Operating Temperature
-40°-140°F
-40°-140°F
-40°-140°F
The non-operating temperature feature requires power to be applied
The non-operating temperature feature requires power to be applied
The non-operating temperature feature requires power to be applied