Visualint™ Mini Maxx Series NVR
Need a cost-effective security solution that offers intelligent video analytics and an option for professional video monitoring? Visualint's Mini Maxx NVRs integrate perfectly with Visualint cameras. Use object-tracking analytics to detect events and generate notifications, or to alert professional monitoring companies and consumers in real-time when an event occurs. This NVR is a trusted favorite, perfect for installers who want added security options along with the most popular surveillance system features.
Compatibility - Visualint™ Mini Maxx Series NVRs only support Visualint IP cameras, and are not compatible with third party cameras.
Control System Streaming - Control system streaming is possible without a separate PoE switch, but you cannot cut off the individual camera feed using the Mini Maxx NVRs.
Hard Drive Note - The 4-channel Mini Maxx NVR is supports 1 internal HDD (1TB pre-installed). The 8- and 16-channel Mini Maxx models support up to 2 internal HDDs (2TB and 4TB pre-installed respectively).
Visual Timeline Search
This user interface offers a virtual timeline, available via browser or HDMI Out, which lets you quickly find events and export or download recordings. When analytic events are triggered or captured by on-site cameras, each NVR writes metadata to the hard drive and tags it so you can specifically search recordings by trigger type. You can also search the timeline, rewind, fast forward, and play back video just as you would on other recorders. Learn more >>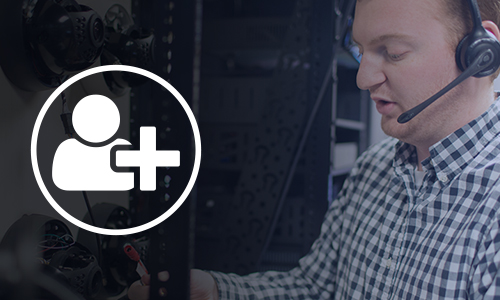 Virtual Technician & System Design
Don't know how to configure the analytic rules? Or don't have time to wait for "your surveillance guy" to take care of a job? Let Virtual Technician do it for you. When you purchase Visualint cameras, they come packaged with Visualint's professional setup service, which is completed in two phases. After you install the equipment, expert technicians will get camera and recorder-specific information to optimize picture quality, configure analytic capabilities, and set up system alerts or email notifications for your customers. You can also take advantage of our unique system design service prior to VT setup. Learn More >>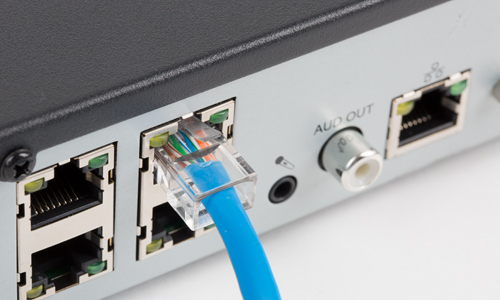 Built-In Power over Ethernet
Plug & play capabilities and Power over Ethernet are available on these 4, 8, and 16* channel NVR models. Why not power your camera directly at the NVR, so you don't have to fuss with a separate power source? *Please note, the 16-channel model only includes 8 PoE ports.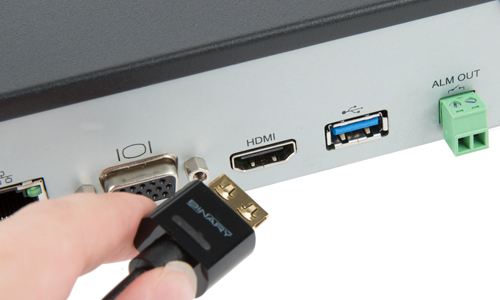 HDMI Output
An included HDMI output allows you to hook up your recorder to a computer monitor to view a live feed or recorded video.
Control System
The Mini Maxx Series NVRs are compatible with popular control systems, and are capable of basic control streaming without a separate PoE switch. However, you cannot cut off individual camera feeds using the Mini Maxx recorders, as you can with other Visualint models.Learn more >>
Rack Mountable
The 8 and 16 channel recorders have a 1U chassis and come with included rack ears, so it's easy to keep things neat and tucked out of the way. Please note: the 4-channel Mini Maxx is not rack mountable.
Consumer App
Visualint's consumer app allows both home and business owners to view live camera recordings, playback past events, and check in at any time.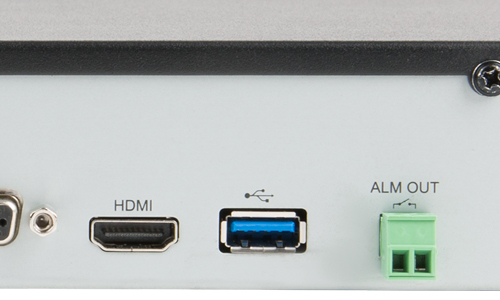 Alarm In/Out
Through Alarm In, set up cameras to receive notifications from the recorder or from another contact relay system; send an email; or take a snapshot after a notification is received. Through Alarm Out, set up cameras to send notifications to another system or to turn lights on when the recorder detects motion.
Windows System Support
This NVR is supported by Windows operating systems. It does not have Mac compatibility at this time.
VI-M-16-4000

Rack Spacing

1U

Channels

16

POE Ports

8

Audio Inputs / Outputs

1-ch, AUX 3.5mm / 1-ch RCA

Available On Internet

Internet Explorer 8.0 or above

Certifications

CE, FCC

Dimensions (W x H x D)

17.3" x 1.77" x 11"

Included Accessories

Power Cord x 1, Mouse x 1, SATA cables, HDD Mounting Hardware, Rack Mount Ears x 2

Operating Temperature

14° - 131° F

Power Consumption

120W (including 8-port PoE)

Rack Mountable

Yes

Weight

6.6 lb without HDD

Supported Resolutions

Up to 4MP for IP Cam Resolution

Alarm Features Desc.

Motion Detection, Video Loss Detection, Pre/Post Alarm, Alarm Activated Recording, Analytic Trigger

Audio Backup

Yes

Audio Streaming

Yes, 2-Way

Alarm Contact Inputs/Outputs

None

DDNS Feature

Yes - visualint.systems

E-Mail Feature

Yes

ESATA Connection

None

Network / Ethernet Desc.

Ethernet: 10M/100M/1000M

POE Ethernet: 10M/100M
Network IP: Static/Dynamic/PPPoE
Multi-Remote Client: Yes, 32 Clients Simultaneously
ONVIF: Yes, v2.4, Profile S

FTP Feature

Yes

Hard Drive Storage (Internal)

SATA HDD x 2 / (2) 2TB HDD preinstalled; maximum 4TB per bay

Record Mode Desc.

Manual / Schedule / Alarm

OSD & Control Interface Desc.

Mouse Control, Web Browser Control

OSD

Time / Date / Title

Recording Frame Rate (FPS)

Up to 30 FPS @ 2560x1440

Search Features Desc.

Time Search, Event Search

Setup & Functions Desc.

Daylight Saving Time, Privacy Mask, PTZ Control: through IP, Digital Zoom: up to 16x, Language: English

Intelligence (VCA)

Tripwire, Double Tripwire, Perimeter, Object Abandon, Object Remove, Loitering, Audio Abnormal, Video Abnormal

Remote Monitoring Integration

Immix

Display Split Window

1, 4, 9

External USB Backup Device

up to 128 GB

Video Resolution

1920x1080P@60Hz, 1920x1080P@50Hz, 1280x800@60Hz, 1440x900@60Hz, 1366x768@60Hz, 1280x720@60Hz, 1280x720@50Hz, 1024x768@60Hz, 800x600@60Hz

Video Compression

H.264, H.265

PoE Features

802.3af, 802.3at, Plug and Play: Yes, with existing VI-M Surveillance cameras

Operation Modes

Live View, Record, Playback

Bit Rate

80Mbps

Power Input

101 ~ 240VAC, 50 ~ 60Hz