Wirepath ONE™ Media Enclosure
This Wirepath ONE™ Media Enclosure was designed for the modern install - with ample storage and organization for our ever-increasing technology needs. Plus, it's UL Listed and can be closed off with a door to keep inspectors happy. Complete with included platforms (20"-40" models only) and shelves, these premium enclosures give you ultimate flexibility to organize, easily access, and even section off areas for cable technicians to do their work without messing up yours. Plus, these enclosures feature knockouts to drop in a Compact WattBox™ so you've got low-profile power right where you need it.

Drop In a Compact WattBox™
A specially-designed knockout on the Wirepath ONE™ Enclosure allows you to "drop in" our handy Compact WattBox™. Available in IP (WB-200VB-IPCE) and non-IP (WB-200VB-CE), this compact WattBox™ unit powers all your gear while saving ample space for devices.

A Platform You Can Get Behind
Our Wirepath ONE™ enclosures feature sturdy platforms that can be adjusted to add and organize equipment, or section off those areas that you don't want touched. The platforms are reversible and feature detachable standoffs that can be flip-flopped for added flexibility. Plus, detach one end and the platform swings out for quick and easy access. *Platforms are not included in our 14" model.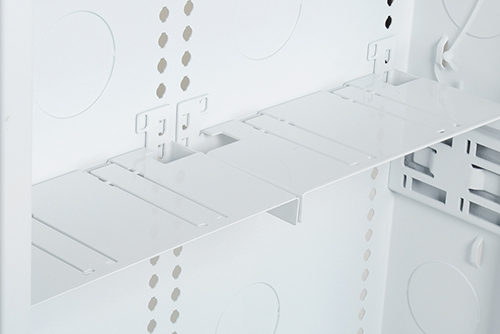 Shelves Included
With each Wirepath ONE™ Enclosure, we've included two shelves that can be attached to the back of the enclosure, on a platform, or on an enclosure door so your project can be as shelf-centered as you need it to be.
| | | | | |
| --- | --- | --- | --- | --- |
| | WP-ONE-ENCL-40 | WP-ONE-ENCL-28 | WP-ONE-ENCL-20 | WP-ONE-ENCL-14 |
| Certifications | UL 1863 Listed | UL 1863 Listed | UL 1863 Listed | UL 1863 Listed |
| Dimensions (W x H x D) | 14.25" x 40" x 3.92" | 14.25" x 28" x 3.92" | 14.25" x 20" x 3.92" | 14" x 14" x 3.92" |
| Construction | 20 Gauge Steel with White Powder Coat Finish | 20 Gauge Steel with White Powder Coat Finish | 20 Gauge Steel with White Powder Coat Finish | 20 Gauge Steel with White Powder Coat Finish |